It's all there in your Xero account
For Kiwi small businesses Xero has been an accounting revolution. With the relevant financial data in the Xero cloud, Fuelled can drastically simplify the process of funding your cash flow. No need for paperwork, everything's already there.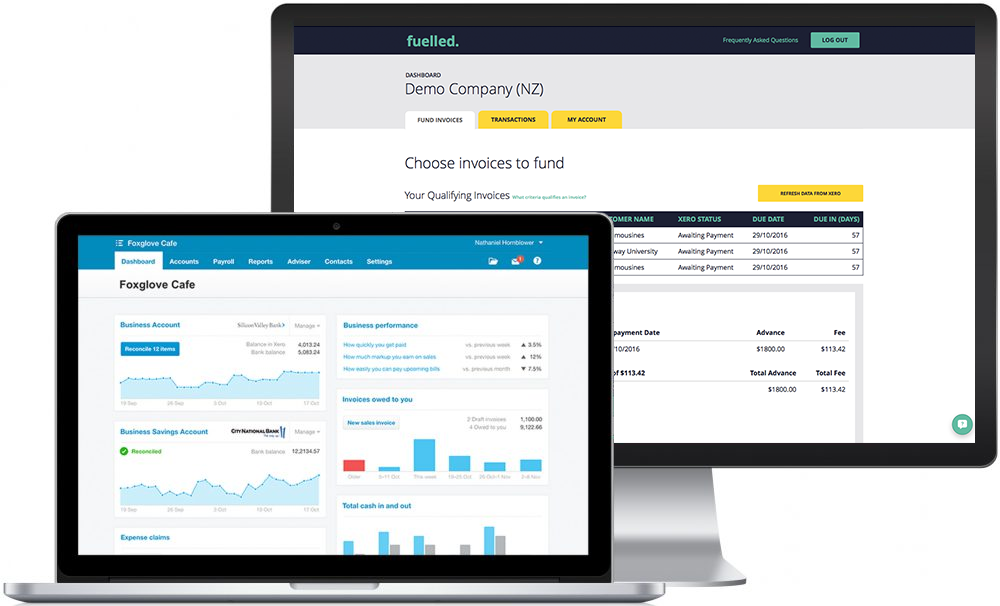 Access cash flow on your terms
Plugging gaps in cash flow can be stressful and complicated. But by linking up with Xero, Fuelled makes the process quick, painless and transparent.
Once you've signed up with Fuelled you can apply for a cash advance of 90% of any eligible invoice.

Integration with Xero allows immediate online validation of your invoices.

Fuelled and Xero give you the flexibility to organise cash flow in a way that suits your timetable, not the 30, 60 or even 90 day systems of the people paying your invoices.
Fuelled and Xero integrate seamlessly in the cloud
What we do access:
Profit and loss information
Balance sheet information
Invoices and payment history
What we don't access:
Personal employee information
Inventory information
Details about your Customers' employees identities
Xero is easy to use online accounting software that's designed specifically for small businesses.
It's all online, so you can work when and where you want to. Just log in with your PC, Mac or mobile.

Your bank statements are automatically imported and categorised, letting you see your cash flow in realtime.

Invite your team and work together on financials. You can collaborate over your up-to-date numbers.

Xero has all you need to run your business – including invoicing, paying, bills, sales tax returns, reporting, and much more.